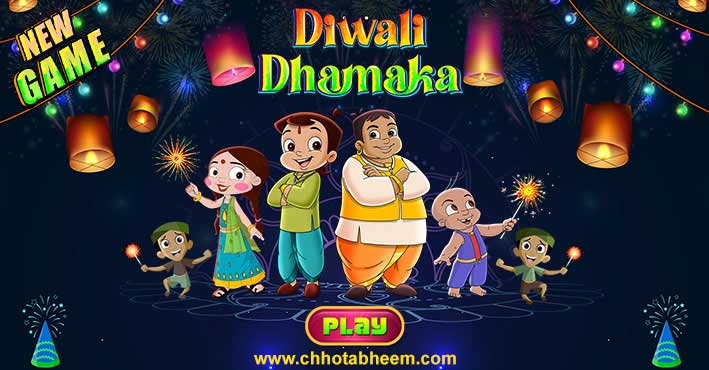 Chhota Bheem Games is an exciting game filled with breath-taking fireworks and unimaginable challenges! Check out this Game to explore innumerable play options to unlock mind-blowing surprises! It is a game over Diwali theme, and every age group would enjoy playing this game. Get immersed in playing the game with three startling modes. These three modes to play are here
1. Fun Mode
2. Challenge Mode
3. Play with Character
Everyone will love playing the game when colorful Diwali fireworks, crackers, flowerpot fireworks, & many such dazzle on the screen.
HOW TO PLAY THE GAME?
• In Challenge Mode, sparkling Diwali crackers & bombs will appear on the screen, and players have to burst them by tapping over them. Play your way to unravel the mesmerizing effect of fireworks.
• In Challenge Mode, the player score increases with the number of Diwali bombs they burst. Are you brave and smart to be quick enough to score as high as possible? This level is truly a challenge for players!
• In Play with Character, the player has three Chhota Bheem characters to choose from – Chhota Bheem, Chutki, and Raju.
It's the choice of players to select their favorite character.  This effect is scintillating to watch over the screen.
About Green Gold Animation:
One of the leading studios of India, Green Gold Animation is a pioneer in creating original Indian animation content and has been entertaining the young generation for over 15 years.
The shows produced by Green Gold have been hugely popular across all leading kids TV channels, drawing an active viewership of over 100 million kids. The producer of over 11 original IPs and of the only Netflix Original (animation) from India, Green Gold Animation today has its content footprint in 190 countries.